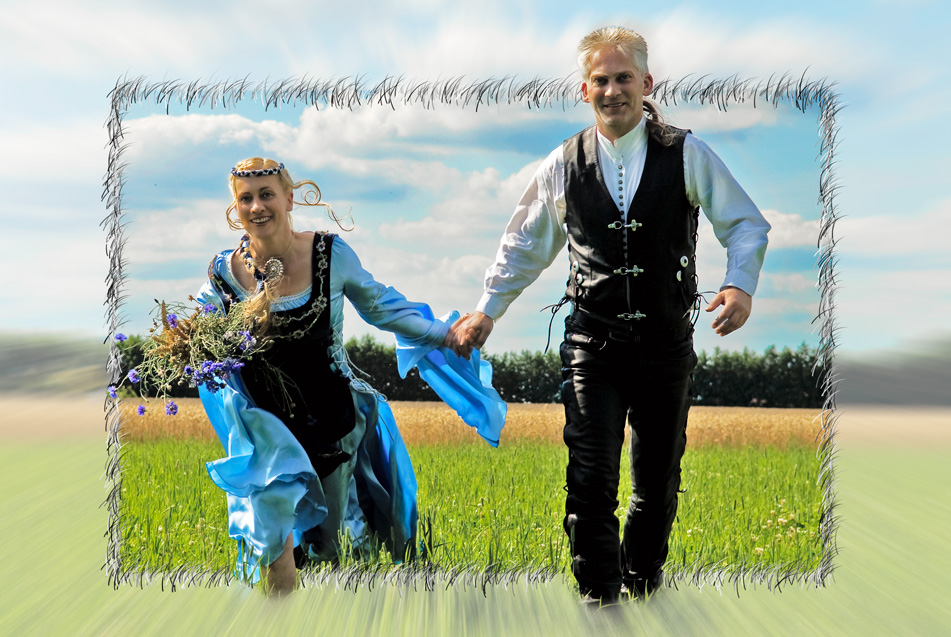 Marriage in Denmark - easy, fast and unbureaucratic
Especially for non-citizens of the EU staying in the EU it is often complicated to collect all the documents needed for a marriage in the home country. It takes time for the documents to be examined, so that some might already lose their validity. This could lead to additional costs.
To get married in Denmark, therefore, is an easy and uncomplicated alternative. It offers a less bureaucratic opportunity for a marriage. This is why marriage in Denmark is so popular, especially among couples of different nationalities. A marriage contracted in Denmark is legally recognized all over Europe and other countries.
FAQ
New laws for marriage in Denmark from 2019
From 1.1.2019 new laws regarding marriage came into force
The change affects both: required documents and the entire process.
Before 2019, documents were checked at the registry office where the wedding was to take place. The process has changed completely from 2019 onwards. The examination of the documents is now carried out exclusively by the Central Commission in Denmark. The Commission grants a marriage license if the examination of the documents has been positive. In the next step, an appointment for the marriage will be arranged with the selected registry office.
How is the process going?
How is the process going
To give you an overview of the processes, here are the milestones of organizing your marriage in Denmark.
Prepare your documents through our agency
Create an invoice, get a payment
Pay a fee to the state administration
Get marriage license from the state administration in Denmark
Reserve an appointment at the registry office
Send appointment confirmation with information to the couple
How fast can you marry?
How fast can you marry
There are 4 instances that prepare the marriage. Each instance takes time
Customer
Our Agency
Danish Public Administration
Registry office

The mostly delay in preparation lies with customers and Danish state administration. We answer all emails daily and check your documents and forms within 1 working day .

When documents are prepared and the payment made, our organization work begins in Denmark. Danish Public Administration promises to spend the marriage license within 5-7 working days if all documents are in order. However, it is not always the case. It is not possible to influence the state administration to prioritize the documents of a couple.

Because we have a lot of experience with many registry offices, we can get you a date to marry in the shortest possible time if we have got the license from the state administration.

Ideally, the process runs like this
Which documents are required?
Required documents for marriage in Denmark
Each couple has their own situation and has different documents to prepare for marriage. Here you can find out which documents are required in your situation. You create a checklist and you can have the list sent to your email.
When do you have to pay?
When do you have to pay?
The Danish Family Law Agency, which issues the Marriage Certificate, begins to check your documents only after the payment has arrived.
You do not have to pay to us until we have reviewed your documents and see no problem in applying for the marriage certificate. Before we apply for the certificate of marital status, we will ask you to settle the bill for our services and the fee charged by the Danish Family Law Agency.
For urgent cases, we will apply for the certificate of marriage immediately after your payment, before your money has been credited to our account. We kindly ask you to send the payment receipt, the bank transfer slip or the account statement via WhatsApp or Email.
Scan documents as a pdf file and save
Scan and save documents as a pdf file
If you do not have a scanner, you can scan your documents with your phone and save them as a pdf format.
Install on your mobile app and get familiar with it.
For mobile with Android we can ClearScan recommend.
---
---
Apply for marriage
You can marry in Denmark if you have been granted the
not impediment certificate
in Denmark. As a rule, the not impediment certificate is valid for 4 months. To get the not impediment certificate for marriage, all requirements must be fulfilled.
Upload
all required documents
and let us check your documents.
We'll fill out all forms for you and send you to sign. We will guide you to our questionnaire.
---
Prices
---
Standard: 389,- € (*)
advising by phone to plan your marriage in Denmark
check and review of your documents
fill all necessary forms and application for you
prepare your documents to apply for certificate
apply for non impediment certificate
arrange, book and confirmation the date for your wedding in a registry office
compile a manual with all necessary information and directions to the register office of your choice
---
Standard + Hotel: 539,- € (*)
Service package Standard +
One stay in hotel with breakfast is inclusive
---
Standard + transfer: 998,- € (*)
Service package Standard +
Priority prepare your documents
Transfer from Hamburg to registry office and back
2 witnesses are inclusive
---
Luxury: 1399,- € (*)
Package Standard +
Priority prepare your documents
hotel for one overnight with breakfast
transfer from Hamburg (tran station/airport/hotel) and back
companionship by one of our employees during the ceremony
a trip by car to sights of town
2 Trauzeuge sind inklusive
---
(*) All register office in Denmark charge 220,- € for an appointment. Our price doesn't include the fee of the registry office.
All prices are for appointments after 30 days (after you send us all requirement documents and paid the fees). We charge additional fee if your urgent appointment:
- while 30 days - 80 €
- while 20 days - 160 €
- while 10 days - 240 €.
Service packages with overnight stays in high season (in July and August) are 70 € more expensive due to increased room rates.
All prices include VAT 19%.
Thanks to all our couples !!!
Reviews